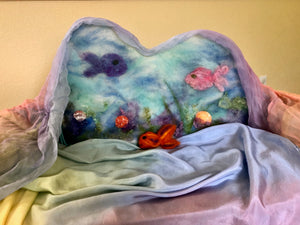 Mini Puppet Boot Camp Online - An Immersion into the Art of Creating Needle-Felted Puppet Stage Backdrops and Presentation of an Ocean Tale. Available Anytime!
Regular price $149.00 Sale
Join us for our Annual Mini Spring Puppet Boot Camp Online - an immersion into the Art of Creating Needle-Felted Tapestries to uplift our Puppet Stages and Nature Gardens. This course dives into creating even more magic for our puppetry presentations will include step by step video tutorials on creating an ocean mood pictorial wool background, which will give you the skills to create many more for any puppet story, or seasonal tale!  
Children's souls can sink into these soft wool needle-felted magical color worlds that add dimension and imagination as backgrounds for our puppet stages, and for our seasonal nature tables. In this training we focus on the mystery of the underwater worlds, and will also work on a sweet and simple puppet story highlighting the children's poem 'Ickle Ockle Blue Bockle, fishes in the sea'.... You can use this backdrop world for all your ocean / fisherman / mermaid stories to come! I include my favorite ocean fish tale written for puppetry, 'The Shell", in the course for your later use.
We will also create our beautiful 2-loop string fish marionette that is weighted just right, so we have perfect control of the movements and gestures. You will watch a video demonstration of our fish story, with guided tips to help you  practice your own marionette movement, so that your fish can flow in the water element, swim up and down, turn, go here, there,  eat the sea plants, etc.  Then we bring our story world to life with presentation practice. Videos of your practices are welcome for one on one mentoring tips and next steps.
You may work on this course at your own best times, and keep it forever to refer back to the tutorials and puppet enlivening demonstrations!
Numbers limited, we recommend your sign up early!
Certificate of Hours available for your Professional Development needs.
Payment plans are available, contact me directly for more info. suzannedown@gmail.com