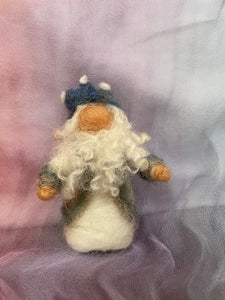 Create a Needle-felted Noble King Winter Finger Puppet - Early Childhood Puppetry Made Easy!
Regular price $19.95 Sale
As we lean into deep winter, King Winter is ruling the Earth. Join us in Making a King Winter Needle-Felted Puppet Included in a simple poem story about good King Winter that the children will love. This tutorial is designed for beginners, but also adds wonder and a little magic to the puppet tales of well seasoned storytelling teachers.
This is one of our Early Childhood Puppetry Made Easy courses online, join us and grow your puppet storytelling skills in a step by step guided way, guaranteed to delight you and the children you serve.
You may work on this at your own best times, and I will be responding in supportive ways to all your comments, questions, and can't wait to see your finished photos of your wonderful puppet! You may keep this course for later referral!
Materials You Will Need:

For needle- Felted puppets - a 12 inch square foam workbase for needle felting. I use pillow foam. ( Joannes, Walmart, etc) - a large sponge for washing your car will do too!

A felting needle - I recommend a general purpose #38 needle

wool roving - (not merino, it is too fine for needle felting puppets) I like something with a little texture, such as Romney wool, Corriedale, Colonial, Border Leicester - just avoid very fine roving for these puppets.

You will need a cheap dish sponge to cut finger sizes from, to put inside the wool roving puppets to leave room for your finger. I get mine at the dollar store.

For King Winter -Colors of wool roving -  a handful of natural roving for underbody - finger tip to wrist, a strong handful of snowy white roving for costume, a nice bit of winter blue and grey, for edging and crown. Small amount of a skin tone if you wish for face and hands, natural roving is also OK, curly wool for his hair and beard, you may also use natural white roving for hair and beard.

some of you will be making more than one, if so, get extra roving !!!
Further questions?  email suzannedown@gmail.com
***************
go to http://junipertreepuppets.com to sign up for our Early Childhood Puppetry Newsletter, and enjoy our blog and course listing.