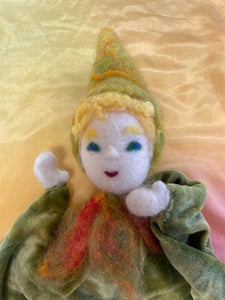 Creating and Enlivening an Autumn Pixie Rod Puppet Online Course - 4 weeks of Delightful Skill Building
Regular price $149.00 Sale
There is something so magical about a little Autumn Rod Puppet Pixie, children simply fall in love with them. They become their best friend, and  rejoice when you share a little tale, song, poem, or nursery rhyme. He can greet them in the morning, kiss them goodnight at rest time, tell the morning verse, or sing grace at snack time.  This little fellow is loving and kind and full of fun. He becomes a loving 'assistant' in your early childhood programs, and a beloved family member at home.
The Rod Puppet is so expressive, and part of this course, after making your puppet is getting confident in how to move him so that everyone is enchanted by him, including yourself! We will work on making our Autumn Pixie Rod Puppet through step by step video tutorial, practice how to him to life with wonderful and meaningful movements and gestures, and the best part, how to tell stories with him on a lap stage so that you can start using him right away! You can work on this course at your best times, and there are opportunities to share your photos and videos of him and comment on each other's sharings, and ask questions too. I am delighted to help with your puppet 'next steps' when you send in a video of his sweet autumn tale. It is a course guaranteed to delight you and build your puppetry skills to use creatively with children forever! 
Lessons come  to your inbox once a week for 4 weeks. All of them have happy action steps for you to do!
skill building
delightful
work at your own best time
keep the course forever
material list will be provided
sharing the joy with community connecting
We use an online course platform with options for lots of participant sharing. You take this course at your own best times.
You will receive an invite via email on Saturday September 23 to sign in with Ruzuku, our host platform the day before we begin. Sign in with Ruzuku, and the first module/lessons come to your inbox on September 24th.  After that new lessons come each Saturday for 4 weeks.  You have a full week to work on your action steps before new lessons come.  Work at your best times!  You also keep the course for later review of content and videos.
Payment plans are available if it helps you to spread this out 2-3 months.  email me to set that up - suzannedown@gmail.com