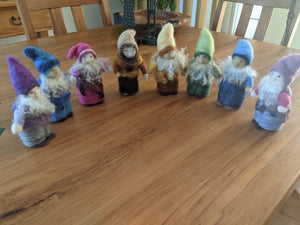 The Art of Needle-Felting an Old Gnome Finger Puppet
Regular price $19.95 Sale
Welcome to our course celebrating the making of Old Gnome finger puppet that can live in a basket, a pocket, in a small shelter on a shelf, and are eagerly at the ready for you to use to help tell a little tale.
You will get a material list (he is small, not too much is needed!), and tutorial videos taking you step by step through the making process.  Enjoy
Make extras because the children will want to tell stories too!  Please do email me with any personal questions at suzannedown@gmail.com 
If you have any tech questions, please contact support@ruzuku.com  our course hosts.
xox Suzanne
If you would like regular notifications of  free stories to tell or share in a puppet show, articles to build your puppet skills, upcoming events, and our super-sales, do sign up for our free Early Childhood Puppetry email newsletter!

  click here